CREATINE THE RIGHT WAY.
Creatine Infused Gummies 😎
Welcome to Beast Bites Supplements: Your Workout Routine with the Best Muscle Growth Supplements
Are you tired of the same old routine with chalky protein shakes and bitter supplement powders? Look no further! Welcome to Beast Bites Supplements, where we have completely transformed the way you experience fitness supplements. We're more than just a brand; we're your dedicated partner on your fitness journey. Our mission is to introduce you to the future of fitness with an impressive range of the best muscle growth supplements, workout supplements, and the absolute best creatine supplement you'll ever try.
Elevating Your Ultimate Destination for Unparalleled Fitness
At Beast Bites Supplements, we firmly believe that fitness should be enjoyable right from the start and throughout your entire journey. We understand the challenges of maintaining a consistent workout regimen, and we're here to make it easier for you. We've taken this belief to heart and have meticulously crafted our signature product: Creatine Infused Gummies. These gummies are not just your typical supplements; they're a true game-changer. Say goodbye to the hassle of dealing with powders and hard-to-swallow capsules. Our Creatine Monohydrate gummies offer you all the robust benefits of creatine in a delightful, convenient, and easily digestible form.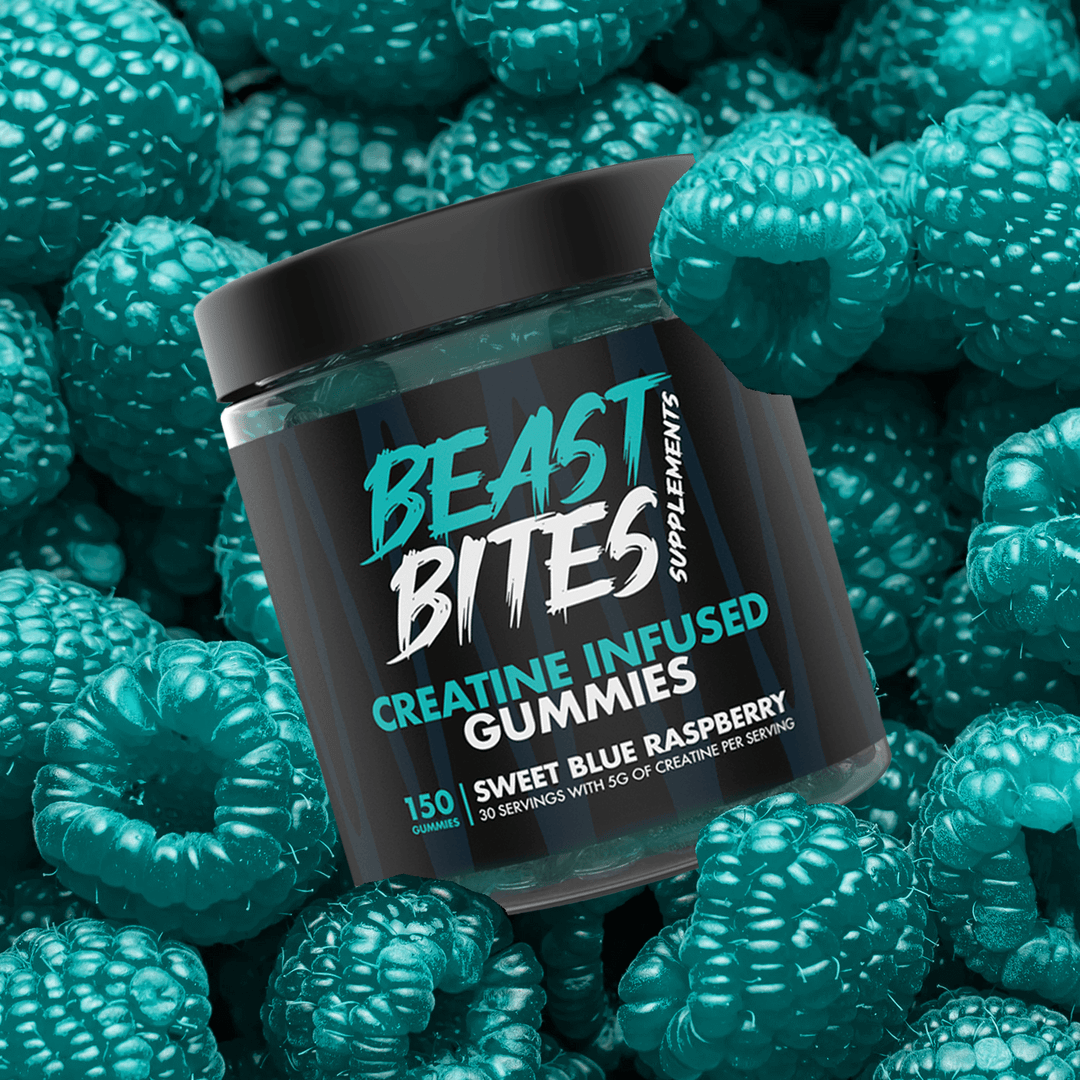 Taste the Victory: Best Creatine Supplement in Gummy Form
Gaining the competitive edge in your fitness journey has never tasted so good. Creatine is a fundamental ingredient for anyone who is serious about building muscle, enhancing their strength, improving exercise performance, and aiding in muscle recovery. However, taking creatine doesn't have to be a tedious task. Experience the full range of benefits offered by Creatine Monohydrate, now available in delightful gummy form. These gummies are not just a supplement; they're a delightful treat that makes your fitness routine an absolute pleasure. Once you've tasted our irresistible gummies, you'll never want to go back to traditional supplements. It's time to transform your daily workout regimen into a joyous experience.
What Our Satisfied Customers Have to Say About the Best Muscle Supplements
★★★★★

Best way way to take creatine! And they're tasty!! Will definitely be getting more!

Stefan
★★★★★

The flavor is good! I must say I couldn't resist eating a handful as soon as they arrived. My workout performance has improved, and I'm noticing muscle growth all over. I'd suggest these to anyone seeking to get jacked.

Mason
★★★★★

If you're a gym bro and take creatine daily these will definitely be far more convenient and they taste super good.

Jack
Unleash the Beast Within with Our Comprehensive Range of Supplements
Your fitness journey is unique, and we're here to support you every step of the way. Subscribe to our newsletter to gain exclusive access to offers and discounts, ensuring you have the finest selection of the best muscle gain supplements, mass gain supplements, and the most exceptional best muscle mass supplements. We are here to make sure you have everything you need to reach your fitness goals and unleash your full potential.
By subscribing, you'll be among the first to access our latest products and promotions. Our commitment is to help you unlock your full potential and achieve your fitness goals.
Connect with Us for the Latest Trends
Stay closely connected with us through Instagram and TikTok. We're dedicated to keeping you updated on the latest fitness trends, workout tips, and exclusive promotions. Follow us to enjoy daily inspiration and to become a valuable part of our vibrant fitness community.
Explore Our Comprehensive Website
Feel free to navigate our website for more valuable information:
Join the Thriving Beast Bites Movement
Beast Bites is more than just a brand; it's a movement that seeks to transform the way you perceive fitness supplements. Our journey began with a vision: to seamlessly combine effectiveness, ease of consumption, and exceptional taste. Today, we continue to innovate and expand our product line, offering you an extensive range of options, including vegan creatine supplements and organic creatine supplements.
Our mission remains the same: to provide you with gym-ready nutrients in a delicious and easy-to-consume format. We're dedicated to making the supplement industry a tastier place, one bite at a time.
Join us on this thrilling journey towards a fitter, stronger, and tastier future with Beast Bites Supplements. Stay driven for success. Stay resolute in your pursuit of greatness.
Best,
Matt & Chris
Co-Founders, Beast Bites Supplements
Unleash the Beast Within: Subscribe Now!
Stay ahead of the curve by subscribing to our newsletter. Become an integral part of our fitness community and receive exclusive offers, discounts, and invaluable insights to power your fitness journey.